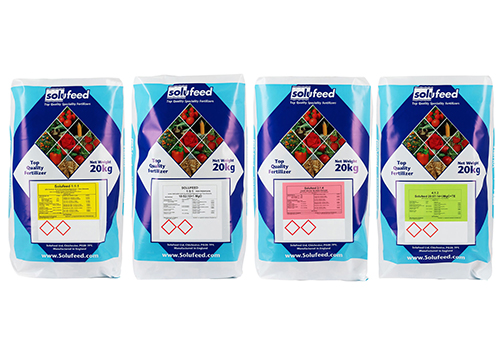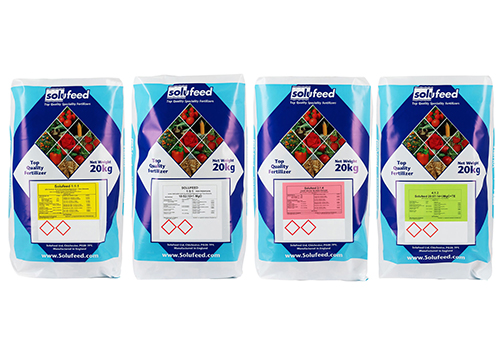 Water soluble fertilizers (WSFs) are core to Solufeed's business having first developed technically excellent products in the 1940's. Attention to every aspect of quality makes Solufeed WSFs stand out from the crowd, offering performance, reliability and true value.
Since launching their first water soluble fertilizer in 1946 Solufeed have developed a range of soluble fertilizers to suit many cropping systems.
Solufeed water soluble fertilizers deliver the essential elements for crops to achieve their full potential.
Available in a wide range of NPK ratios to suit all crops and types of growing media.
Produced from high quality raw materials and to rigid quality assurance standards of ISO 9001/2015.
Completely and readily soluble.
Magnesium, vital for quality crop production, is incorporated.
Chelated micronutrients ensure stable solutions and availability to the plant.
Standard formulations available ex-stock.
 
Standard off-the-shelf products are supplemented by a rapid made-to-order service. Use our technical expertise to develop and manufacture the exact fertilizer you need. Precise N, P, K ratios; specific trace element levels; acid fertilizers for alkaline water; fertilizers with added calcium; fertilizers with special colours; unique packaging and labelling. Available in lots of one tonne and more.
Solufeed products are exported all over the world. We are experienced in supplying products for customers in more than 30 countries. We are familiar with registration processes, shipping requirements and import documentation. Product labels can be produced in any local language. Product can be supplied ex-works UK, or delivered to your local port.
In Other News