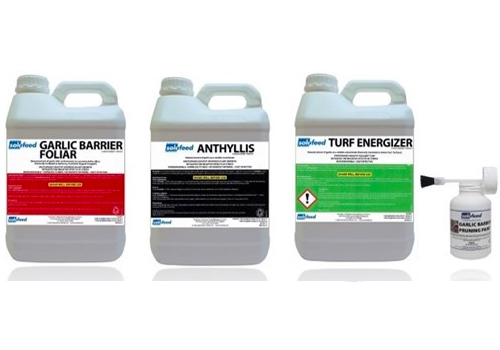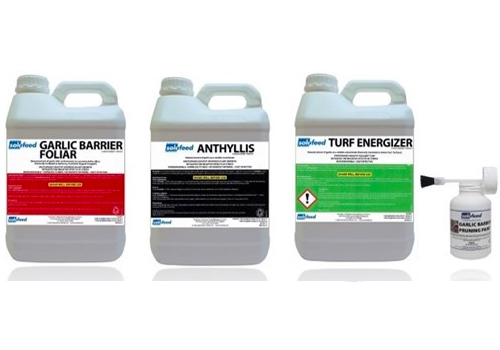 Since their launch some five years ago the Solufeed Garlic Barrier™ range of natural, garlic-based products have enjoyed great success and acquired an ever-increasing number of satisfied and regular customers. During this time product development has also continued relentlessly resulting in a number of technical, commercial and marketing innovations. Formulations have been optimised and the four key products have been re-branded to align better with market needs. We are pleased to introduce the new range to you.
A natural organic plant invigorator Applied to the soil/rootzone, Anthyllis creates conditions which promote healthy root and shoot growth and plant productivity. In turn the debilitating effects of stress are minimised. Suitable for all crops including those grown to organic standards.
For healthy resilient turf, naturally** Suitable for all types of turf including lawns, sports fields and other amenity areas. Applied as a spray programme, Turf Energizer creates conditions where healthy grass growth is promoted. The harmful effects of stress are thereby mitigated.
A Garlic Barrier product, formally marketed as Aston Turf and Turf Care.
An organic approved wound and grafting paint. Simply applied with a brush, Garlic Barrier™ Pruning Paint is an organic approved wound and grafting paint derived from, fresh, natural and concentrated garlic extract. Contains high levels of selenium, sulphur and allicin. Non-setting to allow the garlic extract to infuse the wound.
The foliar effects of garlic are optimised by the addition of selected plant extracts in this organic approved product. Ideal for spraying on a salads and ornamental, vegetables and fruit to keep the plants stress free and looking their best. Like all garlic barrier products, the smell of garlic is gone within a short time following application, and the product does not cause any taint effects.
Any questions please get in touch.
In Other News